ST
The dream team went to Miguel Guerrero's house in Beverly Hills to find that Mr. Guerrero wasn't home and that, the supposed child sacrifice ritual was actually a couple kids playing in a pool with some excitable dogs. After that, they decided that maybe they overreacted a little and they should leave quietly and see what they could find in the security tapes from Fleming's in El Segundo.
ST
It looks like they decided to do that come nightfall, when the restaurant is closed. In the meantime, they're holing up in a nearby hotel to wait for the fallout from illegally busting Ja-Cuze from custody to clear.
Sanura
Sanura isn't too worried because money talks and Harrys lawyers are probably pretty fuckin expensive. She takes a moment to shoot a call to the camp, to Miss Simon as well as Brandon. Feed Crook.. rest her feet from killer heels.
Malif
Malif would bem ore inclined to say Harry's best suited to the heist, but he wouldn't be

ORDERING

him.
Harry
Harry groans. "Fine. Not a fan of this plan, but I'm the most able to defend myself if something goes wrong. Just wish I wasn't feeling so blah."
Malif
"I feel like you're the most likely to go undetected as well, but let me know if you think that's wrong."
Sanura
Sanura, as she's definitely not part of this plan chases crook around with a nail file and some polish.
ST
Alejandra also opted to stay behind. She's worked hard to make her record clean and wants to keep it that way—and, besides, after spending all day talking to lawyers to clear her name, she's not too keen on tempting Fate. She has told the recon group that, if they need her, she'll be at a club nearby. Being cooped up in a hotel room is definitely not her thing.
Malif
Malif approves of her laying low.
Sanura
Sanura goes with to the club, back up.. babysitter, whatever you want to call it.
ST
Okay. Harry. Dex + Stealth.
Harry
7
ST
Harry manages to escape the notice of any passersby and slip by security cameras. Dex + Larceny to break into the restaurant if you don't want to set off any alarms.
Harry
8
Malif
Knew he'd be the man for the job ;)
Harry
(Son of the god of thieves. Not that he advertizes it.)
ST
The door practically springs open at Harry's touch. As he sneaks in, he passes by tables covered in upside-down chairs, a bar, a couple cash registers, and the door to the kitchen. It's an eerie thing, seeing a restaurant so empty and so still. At the end of the hallway that leads to the kitchen is another door. Probably the main office.
Harry
Keeping an eye out for cameras, and, against my better judgement, in uniform.
Harry
Once I've got a guess where the cameras are, and aren't…
Harry
Headed for the office door.
ST
The office is pretty standard fare. A desk, a bulletein board with a to-do list, and monitors that are aglow, showing various spots in the restaurants at varying degrees of bird's-eye angles.
Harry
Jackpot. I look for cameras again, then, settle in.
Harry
First thing, are the backups for this system digital, or

VHS

, or disk?
ST
Digital.
ST
A modern restaurant, with modern technology.
Harry
Okay. Going to see how far back the buffer goes.
Harry
My old security post went back two weeks.
ST
This is about the same.
Harry
Sweet. Scrolling back to when piggy boy said the meetups happen.
ST
He didn't give a specific time, just mentioned that they meet up once a month. And, judging by the footage, it looks like they met up more than two weeks ago.
Malif
d'oh!
Harry
I was recalling as Once a week.
Harry
Okay, checking the security buffer for a

USB

port or anything that would allow long term storage.
ST
It's easy enough to find. Even easier to find the 2TB external hard drive sitting on the desk.
Harry
Thought as much. Can I figure out how to access that buffer with the controls in front of me?
Harry
As in, bring up saved footage on the 2TB?
ST
Wits + Awareness
Harry
9 hits.
ST
It's child's play to figure all that stuff out. Modern technology is designed for convenience (despite what your grandma might claim) so it doesn't take a genius to figure that out. However, as Harry skims through the footage on the hard drive, he finds a timestamp disparity of a full two hours, as well as far more minor disparities in a couple different files at around the same time. /That/ took a keen eye and a little wits.
Harry
As if someone intentionally chopped out two hours, then reset the timer?
ST
Bingo.
Harry
But, if there's a

USB

port…there's a chance that footage is on a flash drive somewhere.
Harry
Looking around through the drawers, shelves, etc, not tossing the place, but more carefully. I don't want it known I was here for as long as possible.
ST
Perception + Awareness
Harry
5
ST
One of the drawers seems to have slightly less room than its size would suggest. Only about a half-inch, so it's easy to miss. However, since Harry's being careful and thorough, he finds that, sure enough, it has a false bottom. Underneath it is a nondescript thumb drive.
Harry
"Jackpot." Slot it and access it.
ST
There's no footage—only audio files, numbered by date. And they're filled with mostly ambient restaurant noise. But every so often a couple of men's voices stand out—one spoken in the clearly authoritative tones and one softer, calmer voice. The calmer voice addresses the other by name, "Romero"… but there seems to be only one instance where Romero addresses the calmer voice: "Tzinacantli." After sifting through the files, it's never explicitly stated but it becomes clear that this Tzinacantli is just a representative of Tunante's, and that Tunante has never met with Romero in person.
Harry
"Fuck." Harry sighs behind his paintball mask, and downloads the audio files to his smartphone, replaces the drive where he found it, and fast forwards the buffer to when he came in, to see if he was caught on any cameras.
ST
There were a couple of flickers of movement, of shadows subtly shifting. But nothing immediately noticeable and nothing that would point to the costumed hero that had stopped a high speed chase.
Malif
(Well, we should find this guy now, and maybe get info from

HIM

)
Harry
Perfect. Gonna put things back how I found them, and get out.
ST
Dex + Stealth
Harry
11!
ST
Harry may as well have been Batman.
Harry
Nice.
Harry
I bolt off, and head for home base.
ST
Oh, one thing I forgot to mention: one of the audio files featured a brief discussion about Mr. Berlin, the singer who was found dead. The file was dated the month prior. This Tzinacantli told Romero which streets Mr. Berlin would be driving down for his "meeting" and instructed Romero to send any patrols that would normally be there elsewhere.
Harry
Oooh, incriminating.
Harry
Nice.
Harry
I'm giving that track to Ja Cuze for her next remix.
ST
Currently we've got Alejandra and Sanura at a club. Mike is wherever he chose to be, and Malif is wherever he chose to be. Would Harry try to gather them together or would he just wait until morning when rehearsals will start again?
Harry
Once I get home, and out of my adventuring togs, maybe a hot shower, I'll text them a "Mission accomplished".
Malif
Malif would be relaxing at the hotel. Replying to the text "You got the footage?"
Harry
"Audio only, but I think it'll sell well. Gonna talk to our track mixer, see what she can make of it. Talk to me back at the crash spot, I have workout shower and a good meal to attend to."
Harry
He looks over at Malif as he comes down the hallway in just a towel, and looks down at his phone.
Harry
"Seriously?"
Malif
"Seriously what?"
Harry
He shakes his head. "Anyway, since we're not being recorded now…the footage had already been stripped, but someone stashed a thumb drive with some audio, I snagged a copy, it's very interesting." Harry tosses Malif the phone and goes to find clothes.
Malif
Malif catches the phone and plays the audio back. "Hmmm….. Tzinacantli eh?"
Malif
Malif calls Sanura, hoping she can hear her phone at the club.
Sanura
Answers the phone though it's hard to hear her greeting through the noise.
Malif
"….What?!?"
Sanura
Sanura hangs up and texts. "Something wrong?"
Malif
"No, Harry's back with info."
Sanura
"On our way.. " She goes to find Alejandra and Mark. "Harrys back with news.." she informs the other woman. Glancing to Mark. "Sorry but we probably should go see about this.. " she paused "unless you want to leave it to us.." she arches her brows slightly inquestion as to if Alejandra is returning with her.
ST
Mark looks to Alejandra as well. She checks the time on her phone and considers it for a moment. "Look, all work and no play makes me a dull girl. You go ahead. I'll catch up with you guys tomorrow morning."
"I can keep an eye on her," offers Mark, perhaps a tad bit too quickly. Alejandra allows herself a little smirk.
Harry
Harry comes out in a tailored suit right off a GQ cover. Grey suit, white shirt, dark red power tie.
Malif
"Texted the others, they'r eon the way back."
Harry
"Good, maybe they'll hurry, and we can go catch a meal somewhere. LA has some amazing restaurants, and I feel like a real meal, after the stress of that break-in."
Sanura
Sanura chuckles a little "sure be safe guys" she texts Malif -Alejandra is hanging back with Mark- then texts Mark -Good luck-
Sanura
Heading out of the club and back to the hotel.
Malif
Malif checks his phone."Looks like its just our little band going out for eats."
Harry
He gets a drink from the fridge. "I've been considering something, I want your thoughts on it."
Harry
He passes a wine cooler to Malif. "When my lightning starts crackling, does it look more yellow or blue to you?"
Malif
Malif rubs his chin. "Always been kind of a blue-ish, I think. We should get the others in on the talk though."
Sanura
Sanura doesn't take too long to get back and they can head to the restaurant with no issue.
Harry
"See, that's the thing. A red and yellow motif works great in the comics, where lightning is yellow. But in reality, electricity tends to be blue-shifted."
Harry
He opens and has a sip. "So I'm considering when I do my next revision of my vigilante gear, going for a shades of blue thing, from the ground up."
Malif
"When has lightning ever been yellow? That's pretty silly!"
Sanura
Sanura walks in and arches a brow "alright.. so what's the news?" she questions
Harry
Harry scrolls through his phone, showing Malif a few pics of the Flash.
Harry
"Real lightning though…pure white, and against a night sky, blue or purple."
Malif
"Yeah, that makes more sense."
Harry
He shrugs as Sanura comes in. "It's been on my mind. Hey kid. Enjoy the club?"
Sanura
A dark brow wings upwards at the kid part of that "Oh yes.. thrilling.. how was the B&E?"
ST
Crook straightens, giving Harry the cat equivalent of a dagger-filled glare.
Harry
"Surprisingly uneventful, but rewarding. Seems Tunante doesn't handle the meets himself, but sends a lackey. Also, I have audible proof of the chief getting his hunting orders on the guy who got his heart ripped out."
Malif
"Wait, that was in there? I missed that part….. we can really nail Romero with that!"
Sanura
Nods slightly "Still we're just in this to let Alejandra do her thing right.. we're still hanging back and just watching her back right?"
Harry
Harry nods. "I'm giving Alejandra the audio for her next track to rip these guys a new asshole. That'll bring the fight to us."
Malif
Malif shakes his head. "You can hang back if you want. If we can bring down Romero and sever Tunante's puppetstrings over the police, I'm doing that."
ST
Crook doesn't break his death glare.
Harry
"Also, I found Genwa Korean

BBQ

, 4.5 stars, near Miracle Mile. I'm dying for Korean." He looks down. "Why is the cat giving me the stink eye?"
Malif
"If Miss Cuze wants to do that through her song, that's one way to go."
Malif
"Oh, Iwouldnt take that personally. Crook's done that to me, too."
ST
Golden symbols appear emphatically above his head. My charge is not a goat. She is a daughter of Bastet. You will address her as "Mistress," not "kid."
Harry
"Crap, they're not an all night place. And you never go to a good restaurant less than two hours before close, unless you own it."
Malif
Malif glances at Crook's symbols and laughs! "He's so cute when he's indignant!"
Sanura
Blinks a little at Crooks sentiment and grins softly "It's alright .. Crook.. no need to be so.. er proper with friends" she tries to sooth her guardian.
Harry
"Apparently, there's a place called Animal, that specializes in meat."
Harry
"I am eager to get ahold of that."
ST
Crook's tail lashes about. They have been nothing but improper since before they were allies. I have tolerated it, because their opinion doesn't matter. But this blatant disrespect is too much.
Malif
Malif crouches down to scritch Crook's ears.
Harry
"Eh, I love bacon, but one does not put bacon on chocolate." He keeps looking.
Sanura
Purses her lips "Harry I think you might want to check your shoes when you get up in the morning.."
ST
He flattens his ear away from Malif's scritchings.
Harry
"Eh, on second thought, I can do without dessert." He looks at her. "What did I do?"
Sanura
She smiles a little "called me Kid, it's not my proper title" she replies. "Crook insists that you're impertinance will not be tollerated.. more or less."
Harry
"What title?"
Malif
Malif sighs. "The cat seems to assume everyone on the planet automatically knows his rules of conduct."
Sanura
She arches a brow tries not to look too amused but she can't help a grin. "Mistress or so says my Sacred Guardian"
ST
Crook's gaze flicks to Sanura as she minimizes his indignance. With that he rises and turns his back on the group entirely, flicking his tail at them in dismissal, before trotting away.
Malif
Malif can't help but smirk. "I can't have my neice be my Mistress! What would the neighbors say?"
Sanura
She winces softly "Awww .. Crook come now don't be so stuffy" she'd walk over and attempt to pick him up. "It's really not something that will fly this day and age. Besides that they are the children of gods as well why should they defer to me hmm?" she tries to use logic here.
Malif
(Logic vs Cat. Cat wins.)
Sanura
[I know right XD so screwed]
ST
Crook pointedly ignores Sanura.
Harry
"Aaaanyway, I was thinking eats, unwind, everyone get on the same page. We can order in, or go out."
Sanura
Groans "Now I'm in the dog house, great" she shrugs her shoulders 'you look ready to go out" she notes to him as she attempts to scritch Crook out of his mood.
Harry
"Well, a tailored suit is a beautiful thing, but it can wait."
Sanura
"Why don't we order in that way we can speak without worry of being overheard"
Malif
"I think you're in the cat house, actually."
Sanura
Sanura texts Mark -everything ok?- Looking to the others "so does this Korean place deliver.. do they have a seafood platter?"
ST
Mark: great
ST
Mark: the egg is safe in the nest
ST
Mark: or whatever code you guys like to use
Harry
"I'll get what everyone wants delivered. Let's get everyone back here, including Victor, he's been off the ranch far too long."
Sanura
Sanura chuckles softly at her phone typing back -good job, check in in about a half pls- Looking up "Sure that's fine with me.. I think Crook wants a lobster" she smirks.
Harry
"if he lays off horfing in my dad's shoes, I'll get him two lobsters."
Sanura
Sanura laughs softly "Crook, do you hear that, isn't that a lovely offering?"
ST
Crook isn't where he was. He seems to have wandered off to go be offended elsewhere.
Malif
XD
Sanura
Sighs "still it might help if you got him something nice, he was very offended" she shakes her head slightly. She'd go get a take out menue from the front desk and return to get the food order handled.
Malif
"I'll try something from this Korean place too, I think."
ST
It's not long before orders are placed and food gets to our intrepid heroes. They've got grub and a private place to discuss their covert ops. Discuss away!
Harry
(Did Alejandra and Victor show?)
ST
(( Alejandra stayed behind at the club. She's agreed to meet you all to discuss it at the venue in the morning. Victor does not show. ))
Harry
"Okay, seriously, does anyone know what Victor is up to? He's unresponsive, and he's been out of pocket for over a day now."
Mike
Mike shrugs. "Beats me…"
Malif
"I haven't seen him in awhile actually, he showed up at the rehearsal then vanished again."
Mike
"I didn't even see him for very long at the rehersal."
Malif
"I guess he'll show up eventually if he ever feels like it."
Mike
"IF he ever feels like it… I almost get the feeling that he's just with us to pass any blame he might get…"
Harry
"He had his own tactical plan when I was splitting us up to tackle this thing."
Harry
"Unless he's deep undercover or something, we need him here for the next phase of this plan."
Sanura
Sanura frowns slightly "So he could have gone out and gotteh himself screwed by a swan or stomped by an ogre or Gods know what else?"
Harry
"Knowing him, he's probably killing some Scion's pet monster as we speak."
Mike
Mike winces. "Low blow…"
Malif
Malif laughs! "I think only zaftig greek women are at risk of swan seduction."
Harry
"That is the first time I've ever heard a man without a big name in photography use the word 'zaftig'."
Mike
"I don't even know what 'zaftig' is."
Malif
Malif grins. "I didn't expect you would, Mr Umul."
Sanura
Shakes her head "The point being I hope he's not getting into trouble"
Harry
"Zaftig, um…hot and curvy? Pleasingly plump."
Malif
"Yes, pleasantly plump."
Harry
"Anyway, we need to reel in Aqualad, and focus on the plan. We have evidence enough to nail these assholes in the court of public opinion, but not before a judge."
Sanura
"If he isn't answering how do you suggest we reel him in?" she questions before eating another bite of food.
Harry
"I have an idea, if I can get him to answer his phone. One sec."
Harry
Harry rings up Victor.
ST
No response.
Harry
"Goddamnit. He's not even answering now."
Harry
Harry texts him, "Where are you?"
ST
No response.
Harry
"Well, shit. I was hoping to at least retrieve him…but I've got nothing."
Sanura
Sanura frowns slightly "does that phone of his have

GPS

? could we get Angie on tracking him down that way?"
Harry
"Doubt she's that good, but hell, maybe worth a try. She's been useful so far."
Harry
He dials Angela.
ST
It rings a few times… unusual for Angela, since she's usually pretty good about picking up right away… and then her bright voice answers, a little breathlessly, "Hello—hey!" followed by a bunch of noises that indicate some sort of struggle, punctuated by protesting and giggling.
Naomi's voice comes through the other line, low and slightly out of breath, but mirthful. "Sorry, but we're busy. I'll return her to you in the morning."
"But—!"
Click.
Sanura
[XD Nice]
Malif


LAWL

Harry
Harry rolls his eyes. "Such is life." He leans back, and has a bite of Korean

BBQ

. "So, that's our heavy out of reach, and our brain…indisposed. Not to mention our customer…out at the club guarded by a mortal."
Sanura
"She's guarded by herself.. he's just there trying to get into her panties.."
Malif
"Well, why don't we go meet up with her there, now that we've passed on our news?"
Sanura
Sanura shrugs lightly "Can we go there without bringing trouble with us?"
Malif
"Why would trouble come with us?"
Sanura
She smiles "just seems like it might, I know my lifes gotten terribly eventful lately."
Mike
Mike grimaces. "Damn Mark… much as he's a good friend, him and the other two are 90% of the time thinking with their dicks."
Malif
"Shall we go and defend our maiden's virtues,then?"
Sanura
Finishing her food more or less she'd pack it up and put it in the fridge. "I suppose we might as well" she murmurs as she steps into her heels.
Mike
"Ahh, she'll be fine. If she's as strong as she says she is, I'm more worried about Mark."
Malif
"Shall we go and defend Mark from Alejandra, then?"
Harry
"While I tend to think that being close to the lady to interrupt attacks from Tunante is smart, you seem pretty eager…"
Malif
"Who, me? I just feel like this is somewhat of a risk to leave her on her own, even if its what she wanted."
Mike
Mike shrugs. "I think it might do him some good, getting put in his place."
Malif
"Plus, we can collaberate with her on a plan of action."
Sanura
Heads out while they are apparently still figuring out what they want to do.
Malif
"Putting the evidence into her song, or do we just bring it forth on our own."
Malif
Malif joins Sanura once that's said.
Harry
"Since it's stolen from the restaurant owner, I think the song avenue is better." Seeing Sanura heading out, Harry gets up. "The cat is so going to eat my barbeque…damnit…"
Malif
"We can bring the food with us, eat on the way, yes?"
Harry
"Nah, suit's too expensive. Lucky cat, I guess." He jogs off after Sanura.
Previously, At the Club…*

|
Sanura
Text back after saving number.




Sanura
Sanura heaves a sigh as she stares at her phone.


Sanura
Face palms at the pretty please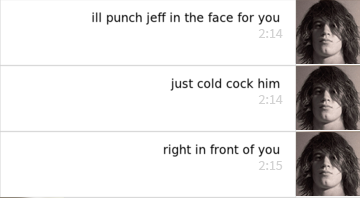 Sanura
Snorts softly at that and shares the text with Alejandra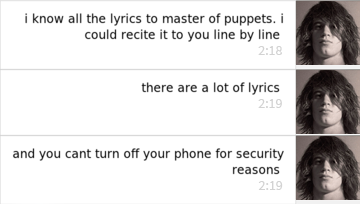 Sanura
She blinks and then snorts softly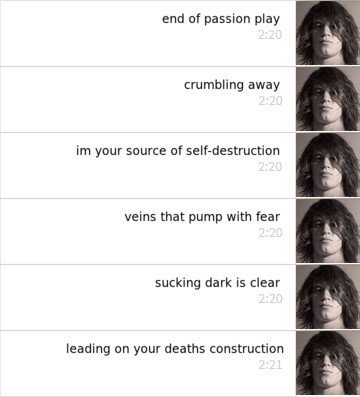 Sanura
She shakes her head and mutes her phone figuring he'll get tired of it in a few minutes.
ST
The next time you check the phone, you find what looks to be the full set of lyrics…

ST
The phone rings.
Sanura
Answers the phone.
Sanura
"Hello"
ST
You're greeted by the faint strains of a guitar going through an abridged version of the intro. Mark's voice belts into the phone "End of passion play, crumbling away"
Sanura
Sanura sets the phone down turns on the speaker. Glances to the others.
ST
"I'm your source of self-destruction"
ST
"Veins that pump with fear, sucking darkest clear"
ST
"Leading on your death's construction"
ST
(( The others being whom? ))
Sanura
I think that's be Malif and Mike, and Ja if she hasn't already left
ST
(( You think Malif would be at the club with them? ))
Sanura
[ohh right.. so just Ja then I'd imagine]
ST
Alejandra is content to simply listen for a moment or two, smiling in amusement. It's clear he's a skilled guitarist and a good singer. After a while, he replaces one of the lyrics with "Just tell me where you are… that info won't go far… and I will stop annoying yoooou…"
Sanura
Sanura laughs softly at that last bit and glances to Alejandra "should we? he can meet us here and we won't be giving away the actual" she makes air quotes "hide out"
ST
She laughs as well and leans closer to the phone, giving him the name of the club. With a bright "Thanks!" and a click, the show is over. Alejandra gives Sanura a grin. "You sure know how to make them jump through hoops, don't you?"
Sanura
Sanura shrugs her shoulders softly and laughs "How do you know if they're worth the trouble otherwise?" Turning her volume on her phone back up before returning it to her bag. "I wonder how many tickets he's going to get on his way over.."
ST
Alejandra laughs again. "Sounds to me like you've got your act together."
ST
"So why aren't you the one calling the shots here?"
Sanura
She quirks a brow that and then shakes her head "How do you know I don't?" giving a little grin before she continues seriously "you've seen the ego's at work around here.. besides that Harry has been at this longer" she shrugs softly. "Alejandro trusts his judgement and he's got his act together so I'll trust Alejandro"
ST
Alejandra gives Sanura a dubious look. "Harry may have been at this longer, but he doesn't think before he acts and he knows shit-all about leading a team. With all due respect, I think your Alejandro needs to get his head out of his ass."
Sanura
Sanura chuckles a little at that assessment "perhaps but I'm willing to sit back and learn for a little.. then once I can navigate this new world maybe I'll push a little harder." she gives a stretch much like a cat. "The team is sort of.. held together with chicken wire and duct tape.. making waves now, isn't the best idea"
ST
"So what's he hoping to accomplish with this… ragtag band of egos, then?"
Sanura
She shakes her head. "Something is comming and we're supposed to be in the way of it I suppose." she looks disturbed. "I still can't quite figure out why I didn't go home, probably because Crook would never let me live it down" she notes with a faint smile.
ST
Alejandra just raises an eyebrow at that, but doesn't offer any comment. Instead, she rises and invites Sanura into the sea of dancing people… joining it herself regardless of whatever Sanura chooses.
Sanura
Sanura goes along with for the sake of keeping an eye out and on Alejandra.
ST
Twenty minutes later, they're joined by Mark, who's dressed a little nicer than usual—and by "a little nicer" it's more like he's thrown a black button-up shirt over his white tee (without buttoning it, of course). Alejandra invites him in on the fun as well, and, after a moment's hesitation, he does. After the first song he offers to buy her a drink. It's clear that he doesn't just have a thing for Asian women, as Sanura overheard Jeff claiming the day before. At that time, Sanura receives Harry's text.
ST
Shortly thereafter followed by Malif's phone call.