[12:00:14 AM] Mike: Mike enters his room and takes his guitar case off of his back, setting it on the bed as he sits down on it as well. He sighs heavily… this whole time, he still hadn't contacted Marc about the whole ordeal. It was still that they were going to be sponsored… but at the same time, he didn't feel like chatting it up with him about the whole situation… and it was impossible to lie to his best friend… He flopped backwards on the bed with a sigh. "What the hell am I gonna do…?"
[12:02:32 AM] Mike: He picked up his cell phone and stared at it intently… as if willing the answer to just… come to him. Not like it would. That sort of thing only happens in the movies.
[12:04:47 AM] ST: The cell phone is utterly unresponsive. It occurs that maybe it's still dead due to Joanna's ecto-electro interference.
[12:05:35 AM] Mike: Mike blinks a bit… and checks that it is, indeed, dead. If so, he did bring his charger and plugs it in.
[12:07:31 AM] ST: The phone blinks and chirps to life. It takes a few moments for it to start up properly once plugged in, cycling through the various cumbersome startup splash screens before finally showing you want you want. It buzzes, declaiming that there are 2 unread text messages.
[12:08:18 AM] Mike: Mike pulls the texts up, wondering just who sent them… though he had a pretty good idea who.
[12:08:50 AM] ST: The first one is from Alejandro, with the address to the warehouse.
[12:09:30 AM] Mike: Mike blinks. "Huh… was just gonna get that from Malif, but that works too."
[12:13:02 AM] ST: The second's from the affectionately labeled "Dickhead":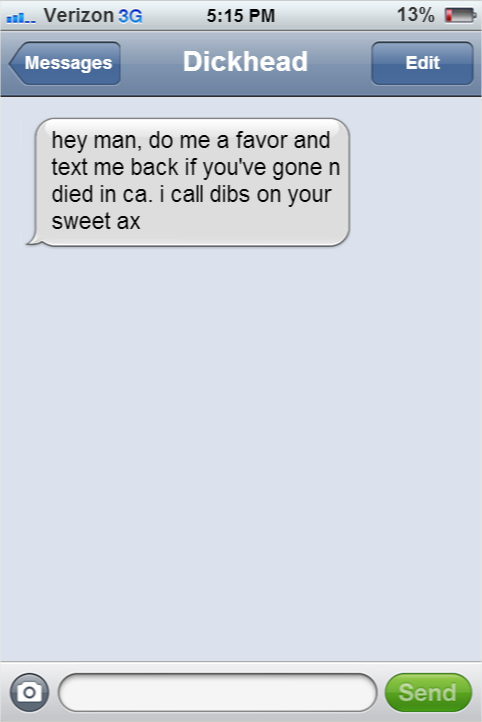 Ah, Mark, always looking after you.
[12:14:03 AM] Mike: Mike laughs a bit at that. He then goes ahead and texts back:

[12:17:31 AM] ST: It's only a couple minutes before he texts back.

[12:19:04 AM] Mike: Mike smiles at that. He then shoots one back.




[12:23:17 AM] ST: Sure enough, the phone rings, playing that stupid song from so long ago that inspired you and Mark to start a band.
[12:23:33 AM] Mike: Mike laughs. "Good ol' Marc." He answers it. "What up, fucker?"
[12:26:15 AM] ST: "Not much, cockmongler. Me and the boys jammed a bit today, but kinda hard to do anything real without our lead singer. So. Spill the guts, man. When we gonna fly up there to record an album in one of those nice-ass soundproofed studios?"
[12:27:54 AM] Mike: "Gonna be a while. Still got a few things to take care of…" He was telling the truth there… maybe this wouldn't be so hard… as long as he didn't ask too many questions that would be difficult to answer…
[12:31:04 AM] ST: "Thought you scored the deal. What else is there to take care of?" There's a pause. "Oh, I know. San Francisco. You got syphilis or some shit from a deceptively fine dude in hot pink booty shorts, didn't you? And you're too embarrassed to tell me. Well, don't worry. I'll be sure to tell everyone else over here the news."
[12:34:10 AM] Mike: Mike nearly lost it at that. "No way in HELL would I mistake a cock for pussy, number one! And number two…" He stopped himself and went silent for a couple of seconds… 'Damnit… I can't do it… I can't lie to him, and I can't keep this shit from him… it's just not right…' He sighs. "Marc… tell me. If there was some weird-ass crazy shit that I told you was happening, on a scale of 1 to 10, how believable would you find it coming from me?" He sounded extremely serious here.
[12:38:48 AM] ST: "Dude, you know we don't have to play that game. We're past that shit." You hear the pop, hiss, and clink of a beer bottle being opened. "Besides. Like I said, San Francisco. I hear some of the weirdest shit about that place. Crazy hobos running naked through the streets and nobody bats an eye. Right up my alley."
[12:39:56 AM] Mike: "You hear alot of crazy shit… like schools being burnt down and the children of those schools being abducted?"
[12:43:16 AM] ST: "Whoa, non-sequeteur. We've discussed this, Mikey-boy. I need some fuckin' context." He pauses again. "Oh man, wait. I mean… we do some stupid fuckery when we get shitfaced together, but never that stupid. Right?"
[12:44:47 AM] Mike: "I didn't do that shit… but I'm invested in it nonetheless…" He sighed. "Marc… being 100% serious here… don't go all human on me and call the loony bin when I say this… but…" He sighed again. "Do you believe in Gods?"
[12:51:02 AM] ST: "Didn't we talk about this back in junior high?" You hear him take a swig of beer. "You know I don't give a shit. God, gods, no gods. I live my life the way I want and if some sort of cosmic being gets a burr twixt their milky cheeks 'cause of it, they're gonna have to tell me themself."
[12:51:51 AM] Mike: Mike gave a dry laugh. "What if I told you… that one of those Gods did just that… the night we went to that bar?"
[12:52:50 AM] ST: "Uh… I don't recall anyone giving me shit for my lifestyle that night."
[12:53:27 AM] Mike: "Because he didn't approach you… the bar owner. Saturday guy. What do you remember about him?"
[12:57:22 AM] ST: "I remember he was an odd motherfucker with a sweet top hat and shades. Also that bartender. Man, if he's not the twinkest of twinks I'll wash my balls with Listerine."
[12:57:53 AM] Mike: "What if I told you his real name was Baron Samedi?"
[12:59:45 AM] ST: "A baron? Thought those titles are kind of obsolete. Also he didn't look like British nobility to me. Well, except the top hat and coattails, maybe. You sure that's his real name?"
[1:01:43 AM] ST: "I mean, that'd explain this sweet-sounding sponsorship deal. But still."
[1:04:22 AM] Mike: "The sponsorship isn't connected to Samedi… which… is French for Saturday. Baron Samedi is a God of the Loa, Haitian Voodoo shit. He's the God of the Dead in that regard." He grimaces a bit now. "Now… that's not the weirdest shit I need to tell you about…"
[1:05:08 AM] ST: "Whoa, whoa, whoa. Hold up."
[1:05:47 AM] ST: "Okay, I got the voodoo part. I trust you on that shit. But you're telling me this Saturday guy is a god." There's a long pause.
[1:06:33 AM] Mike: "I didn't believe it when he told me either… until he summoned fucking zombies right in front of me!"
[1:08:19 AM] ST: "Zombies. Like. The walking dead? 'Braaaaaains'?"
[1:08:36 AM] Mike: "One in the same."
[1:09:30 AM] ST: "Wait, they literally said 'brains'?"
[1:09:42 AM] Mike: "No… more just kinda grunt."
[1:16:09 AM] ST: Another long pause. Finally it's broken by the sound of Mike setting his beer down. "Okay. Well. This doesn't sound like the usual jokes you tell. And I'm not gonna call you a liar—and I'm pretty sure none of us were on anything that night. Well… except maybe Jeff." He takes a deep breath. "But understand that I can't believe it till I see it with my own optics. Anyway. I'm still listening."
[1:16:56 AM] Mike: "Yeah, because… of what you've heard so far… that's not the weirdest shit you're gonna hear…"
[1:19:42 AM] Mike: Mike took a deep breath… "One of the ways the Loa interact in this world… is by inhabiting the bodies of other people… and… even Gods gotta get some pussy every now and again… so Samedi… he popped into this guy and banged a chick pretty hard… 9 months later… I popped out." He stayed silent after that, wondering if it was going to sink in Marc's mind.
[1:20:20 AM] ST: Silence on the other end.
[1:20:51 AM] ST: Followed by laughter.
[1:21:33 AM] Mike: Mike is still silent on the other end.
[1:23:26 AM] ST: The laughter dies down a little. "Okay, okay, I'll give you that. Your mom's smokin'."
[1:24:56 AM] Mike: "Dude. That's my mom. Not cool." He stays silent for a little bit longer. "Though you're right…" He laughs a bit. He takes another breath. "But I'm serious… the only reason we were called to that bar, Samedi's personal bar, was so he could tell me that I'm the son of a God."
[1:30:18 AM] ST: Mark calms down some more, and his next statement has less humor and more concern. "Mikey-boy, I know you're all serious business about this, and I'm pretty sure there wasn't anything fishy in the rum we drank. But—I'm sorry—I still can't really suspend my disbelief."
[1:32:01 AM] Mike: Mike sighs. "How the hell am I supposed to have you believe m-" He stops. "You remember the gig we played at that bar? The new guitar I got? How when I played, the music seemed to actually come from the ground instead of from the amps?"
[1:33:57 AM] ST: Another pause. "Yeah, now that I think of it. In fact, I don't remember seeing you plug it in. Actually, I don't remember seeing any jacks in your axe at all."
[1:34:57 AM] Mike: "Because there wasn't one… that axe… it was a gift… from Samedi. Along with a rather interesting pick… one that's ivory green, shaped like a devil? ring any bells?"
[1:36:04 AM] ST: "Yeah, that fuckin'… Pick of Destiny-looking thing. I remember."
[1:37:10 AM] Mike: "It's pretty much what that shit is! That music I played came from the Voodoo underworld, and that pick helped me do it. Not only that… I seemed to have inherited my old man's ability to summon zombies."
[1:39:15 AM] ST: "Wow, I…" You hear a long sigh. "Well, okay. I'm starting to believe it. But this is just weird, man." Again, a pause. "Hold on, you've got, like… powers and shit?"
[1:39:45 AM] Mike: "Fuck yeah, dude! Pick's got some wicked awesome shit about it!"
[1:44:55 AM] ST: "Okay. If what you're saying is true, that you can summon zombies… I don't know, Mikey-boy. I still gotta see it to believe it. But I can accept that you believe it, at least."
[1:46:43 AM] Mike: Mike sighs. "Okay… how do I prove this shit to you? I don't think bringing you out here to show you in person is a good idea just yet… as I said, I'm trying to fix some things out here… trying to be all superhero and shit with other guys that are the offspring of Gods."
[1:47:39 AM] ST: "Wait, there's more of you?"
[1:51:42 AM] Mike: "A metric fuckton more, from what I'm understanding… in fact, the school that got burnt down? The kids that went to it were all kids who have Gods as their parents. They were snatched up by, we believe, another guy who is the offspring of a God as well… but… one similarity with superheroes… there's the other side of the coin in supervillains. Without revealing TOO much of what's going on, this bad motherfucker abducted all the kids at that school and… well, we're just guessing at this point, but it's most likely that he's taken the kids to brainwash them into becoming evil like him. That's the shit I'm invested in out here."
[1:54:05 AM] ST: "Whoa. Slow down. First voodoo and now this. What? Kidnappings? Superheroes?"
[1:54:09 AM] ST: "Brainwashing?"
[1:55:43 AM] Mike: "Long story short, then… Evil God offspring kidnapped school-aged God kids and is trying to turn them evil. Me, and other God offspring are trying to find said kids and free them."
[1:56:21 AM] ST: More silence follows.
[1:58:36 AM] ST: "Okay. Look. I'll be straight with you. This is way too much. I'm sorry. I can't…" There's a deep sigh. "Fuckin'-a, dude. Let me just… call you back in a couple days or something."
[2:00:45 AM] Mike: Mike nods. "Yeah… alright, then… just…" He sighs. "have the guys ready in about a week… and Marc… please don't let the others know… not yet."
[2:03:20 AM] ST: "Yeah… I won't. One week." There's an awkward pause before the phone beeps, indicating that the call has ended.
[2:05:21 AM] Mike: Mike tosses his phone aside, then sighs as he flops back on the bed. "Damn… I hope that was the right thing to do…" He closes his eyes. "I wonder what you would have done…" He imagined Baron Samedi's image as he said that.